It is a challenge to understand how radiation affects biology.  Thinking in terms of electromagnetism is good for several reasons.  Even lock and key mechanical and chemical processes are mediated ultimately by electrical fields.  The radio analogy introduces the idea of resonant coupling of wavelengths, something ignored by the mainstream. We get the feeling for field and distance effects, as opposed to bullet like targeting.  
The scientific understanding of radio-biology is still emerging.  Not only does the public not understand how ionizing radiation affects the living world, neither do scientists fully grasp it!   Many discoveries are relatively new, and new discoveries await.  We can be sure that anyone who is confident they know all about radiation health physics and especially the ones who talk about the safety of nuclear have too much hubris and not enough knowledge
I would be well advised to leave it up to experts, but anyway, the following are some of my humble, and perhaps missguided attempts to get a handle on how this super low energy, super toxic stuff affects our living world. 
The first thing coming to mind is the informational aspect.   The pen is mightier than the sword, it was said.  Much of the damage comes from biophysical reactions.  This upsets the concept of 'dose'.  The idea that x amount of radiation will do x amount of damage to DNA giving a somewhat random chance of disease is simply incorrect.  Radiation damage involves the system.  The systems of the cell, of the organ, systems of the entire body and ultimately the ecosystem at large.  
To get a feel for how much information a low level radiation exposure could hold, we see here an x-ray of medieval text. The energy involved is remarkably low....a butterfly landing. But the information revealed is rich. The x-ray didnt damage the parchment, but the information could include directions to burn the document,  mobilize an army, or command suicide.  The question then is if there is information-rich 'pictures' arising from low level radiation exposure, and does it have a biological affect?  And the answer is yes.   And on a systemic level, the majority, perhaps vast majority of the damage from artificial radiation is due to the information content and ensuing biological response.   This is a lot like an amplifier.  The low  energy information opens the floodgates of biological responses. This is not unlike allergic responses, where the smallest imaginable trigger can set off a cascade of reactions that can even be deadly.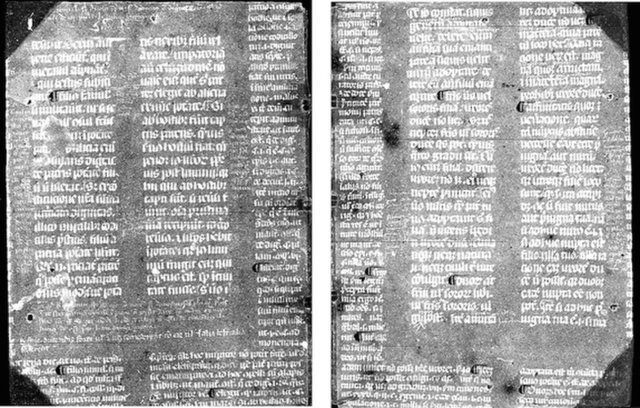 we are healthy with background radiation but unhealthy with the same dose from fallout